I don't know about you, but a year into this panorama I find my focus and attention span are almost nonexistent. My ability to maintain a routine is about 48-72 hours long and discipline, well, that left sometime in 2020. Let's not even go into the shame spirals around all that I just mentioned. With so much happening over the computer screen, tablet screen, and phone screen the digital fatigue is real. This leads me to think about the day-to-day choices I make with my wellness practices, and how my choices influence whether I maintain vitality resilience in the new normal of post pan dulce life.
Often, the biggest hurdle is inertia and with most things still on pause it's hard to find the gas pedal. However, I've found that gradually working towards the change I seek improves my odds of success. The power of "habit", as my favorite Ted Talk deliverers call it. With habits, the small focused time boosts my ability for engagement and I am able to focus longer and more intently.  
Another important piece of my wellness come back is variety and community. It's been as simple as adding 15-20 minutes of wellness activity into my day a few times a week, and having that friend or colleague to join me. In a year with so much disconnection, coming back to creating connection with others is a powerful motivator.
Finally, the real cheat code is access. I found that removing the obstacles for myself to actually do the thing I want helps tremendously. I keep it simple so I can get the most out of my bite-sized wellness reset for the day.  Whether it is a quick meditation or set of jumping jacks, I always come back stronger and more alert after a quick break. 
It's always more fun when our friends get in the fun. If bite-sized, accessible, and engaging wellness excites you, check out The Daily 15. We've added a  sample one-minute video for you below, so that you can take a moment to pause and refresh with us.
The Body Techniques team has put their heads together and created our newest program, The Daily 15, to help virtual employees stay motivated and engaged. We know it works because we do it every day and we want to share it with you. . We encourage everyone to schedule fifteen minutes for themselves and come together as a team.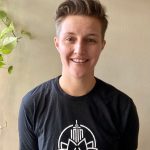 Written by: Nicki Butler
Operations Assistant
Body Techniques