Mobile Massage Therapy Makes Employee Stress Management Simple
Body Techniques' team of specialized therapists conveniently brings mobile massage services to your office. Our approach focuses on providing your employees with quality, onsite massage therapy no matter where your team is located. The benefits of stress management programs are easy to measure with our competitive pricing and software – featuring tracking through utilization statistics and ROI of the program.
Learn how massage for employees works and empower your workforce or schedule a consultation today to build a custom program.
Onsite Services Now Available In Canada!
Help your employees relax with the benefits of onsite mobile massage. Now available in Montreal, Quebec, Toronto, Ontario, and Vancouver, British Columbia. Get a free quote on your custom stress management program and contact us today.
Our Mobile Massage Therapists Come Right To Your Office
The benefits of corporate wellness programs, specifically onsite massage therapy are infinite. Learn more about our top massage therapy services that can be delivered anywhere nationwide below. If you are in healthcare, click here to view our tailored massage programs for you.
Often called "corporate massage," this is the most convenient method of delivering onsite massage therapy and is provided using specially designed massage chairs for employees. It promotes better circulation, muscle stimulation and stress relief. The technique reduces tension in the back, neck, shoulders, head, arms, and hands. Chair massage is ideal for employees who work at computers or spend extended time driving, lifting, or standing.

Get Custom Chair Massage Benefits
Using a series of techniques, practitioners apply rhythmic finger pressure, gentle rocking, stretching sequences and deep structural work to achieve a relaxed and balancing effect in the body. This technique also helps improve circulation and mental acuity. It offers a profound employee experience that is otherwise not accessible without onsite massage services.

Get Custom Table Massage Benefits
Reflexology is based on the principle that there are reflex points on the hands and feet that correspond to each structure of the body. Our therapists apply gentle pressure to the reflex points, facilitating a free flow of energy that creates a state of balance and deep relaxation in your employees.

Get Custom Reflexology Benefits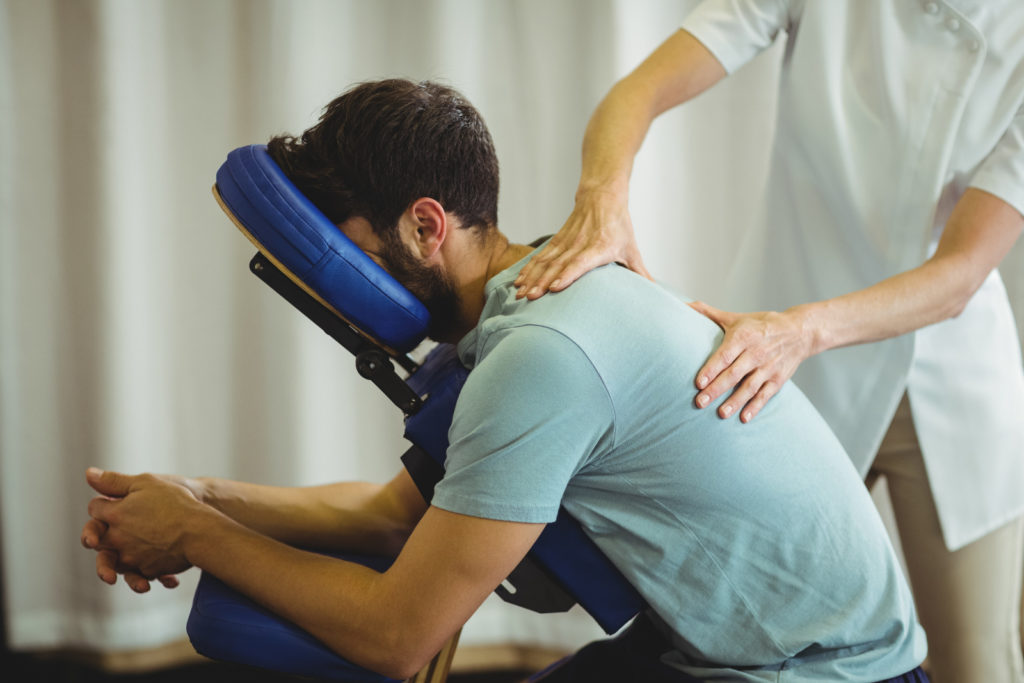 If you're looking for a unique, customized experience for your employees and have a designated massage room on site, we can design a massage program from a wider range of massage styles, including:
Mobile Massage Therapy: Is It Right For You?
The last 20 years have sculpted our employee massage services to fit the unique needs of any business. We've worked with corporations like Google, IBM, and Microsoft and see the best results when our clients: 
✓ Subsidize at least 50% of the cost of the program. We find these companies view massage as an employee benefit, and the lowered cost to employees impacts participation greatly. If the cost of a 15-minute massage is $10 or less to an employee, then we guarantee the program will be a success. We know employees want subsidized programs. When there is a subsidy for massage in place, we see a jump in employee utilization from 50-60% up to 85-95%.
✓ Have at least enough space for a chair massage. We find that programs work best when there is a dedicated area that employees associate with the massage program. At the least, we need a place to set up a massage chair! Build Your Mobile Massage Benefits Program Today