Massage is one of those magical things in life that not only feels good but also is good for us. We believe everyone can benefit from even 10-minutes of chair massage, so we're doing all we can to bring massage to every office across the US. When employees have access to company sponsored stress relief programs, retention and productivity increase while stress and burnout decrease. As offices across the country establish a new normal, Body Techniques is here to make your return to office stress-free with corporate massage. Last year, we really missed bringing massage to hard-working employees and can't wait to get started with you now!
Corporate massage is a fantastic resource to calm the stresses of high-performance teams. When you work with Body Techniques, our certified Massage Therapists (MTs) are dedicated to releasing tension and providing relief through chair massage. Our MTs will set up their space, listen to each employee's needs, and deliver comfort through massage. To keep bookings on time and organized, Body Techniques provides proprietary booking software that helps ensure your massage appointment is stress-free.
Whether we need relief from a sore back, a stiff neck, or an old nagging injury, introducing massage to our routine can help. By managing our pain through massage, we can focus on the moments that matter, such as connecting with loved ones and nailing that challenging presentation.
Massage Boosts Immune Function
Many studies show massage can boost the immune system in just one session. Regular massage is the perfect feel good way to ensure your team can keep showing up healthy and happy at work, at home, and everywhere in between.
Massage for Mental Health
Stress keeps our nervous system in fight or flight mode. Massage is proven to reduce stress while promoting deep relaxation. This ancient practice stimulates our nervous system's better half, the "rest and digest" mode, so that our mind and body can shake off stress and naturally restore themselves.

And, did we mention it feels good too?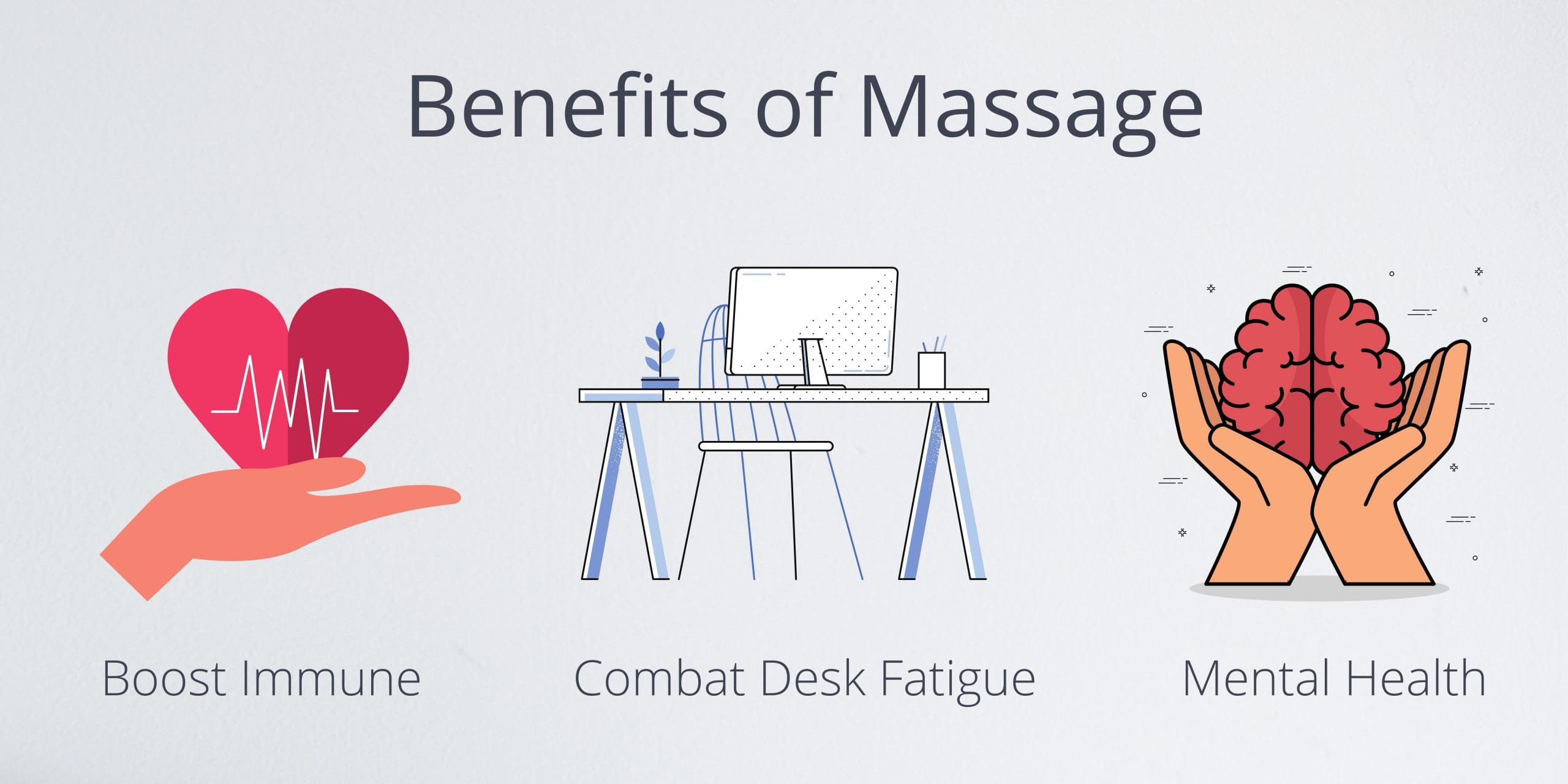 This summer, we're offering a Buy Two Hours, Get One Free promotion on massage events. To celebrate bringing chair massage back to the office, we're giving away the biggest discounts ever offered in our 25-years of business. We want to make sure your team feels supported; schedule a massage event today to help your team relax and restore as they return to office.
Get wellness on the books.

Written by: Emily Bonzi
Marketing Director
Body Techniques