Organizing a health fair or conference can be overwhelming, and there's always the challenge of making sure your booth stands out from the crowd. One effective way to improve customer experience and increase engagement is to create an experience that's both memorable and interactive. This is the perfect opportunity to showcase your company's values and services to leave a lasting impression on attendees.
Setting The Stage: Ways To Improve Customer Experience
Creating an engaging and memorable experience for your customers at a health fair can be the key to making a lasting impression. In today's business world, interaction and personalization are important to make sure that attendees not only remember your company but also feel valued and connected long after the event has concluded. But we won't leave you wondering how you can achieve this. We've compiled some tips and ideas to help you create an engaging experience for your customers, from activities to personalized touchpoints.
Creating an interactive experience for your guests is a great way to break the ice. Adding an activity can make conference attendees feel more connected to your company and help create a moment that sticks when they are back in the office. Consider setting up games, activities, or demonstrations that help demonstrate the benefits of your services. These activities can help spark a conversation and give your team a chance to hear more about what your potential clients are looking for.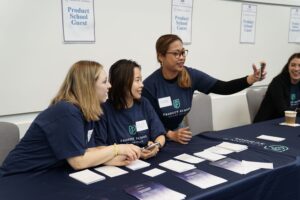 Offer Massage To Your Guests
One of the most popular activities at health fairs and expos is offering massage to guests. Not only will it help to relax them, but also give your booth an extra boost in terms of visibility. Chair massage is the best option for larger crowds, as it requires little setup and is quick to perform. At any conference, you can always spot the booths with massage because there is a lineup of people eagerly waiting to be serviced. While attendees are waiting in line, you have a great opportunity to meet with them and chat. We provide onsite chair massage services that attract event attendees to your booth and it's available nationwide.
Technology has changed the way we interact with customers, and it's no different at events and health fairs. Incorporate interactive elements that attendees can use to learn more about your services without having to wait in line or listen to a lengthy presentation. Consider how you can set up interactive displays, tablets, or kiosks with touch-screen technology that shares what helps make you and your team special. You can also use this technology to capture customer information like email addresses for seamless follow-up after the event.
Provide Personalized Touchpoints
Providing personalized touchpoints is another way to make customers feel valued and appreciated while they wait in line. This could be something as simple as a complementary bottle of water or protein bar, or a branded tote bag or t-shirt. You could also offer contests or giveaways, such as a raffle or quiz, with prizes that are relevant to your services or products. This is a perfect opportunity to educate customers about your company and promote your services in a subtle and engaging way.
One of the main reasons people attend health fairs and expos is to learn about new products and services. Therefore, it's essential to showcase your expertise and educate people about what makes your company unique. You could organize a mini-workshop or demonstration or invite experts in your industry to speak or share their knowledge. This is an effective way to stand out from the competition and create a lasting impression on attendees.
Collect Feedback and Follow up
Finally, it's essential to collect feedback from customers and follow up with them after the fair or expo. This could be as simple as providing a survey or comment card and asking people to leave their contact information. If you're offering a promotion, add a QR code directly to your printed materials so that you eliminate the guesswork for your new contact. After the event, follow up with an email or phone call, thanking them for visiting your booth and providing further information about your services or products. This is a great way to establish a relationship with potential customers and turn them into loyal fans.
The Power Of Engaging Customer Experiences
Creating an engaging experience for customers while they enjoy a health fair or event is an effective way to attract leads and stand out from the competition. By offering activities such as a chair massage or giveaways, you're creating an environment that's memorable, interactive, and educational. Always remember to showcase your expertise and remain true to your company values, as this will create a lasting impression on attendees. Don't forget to collect feedback and follow up with potential leads after the fair or expo, as this will help establish relationships and increase loyalty. Implementing these tips and ideas will help you create an impactful and enjoyable experience for customers that will keep them coming back for more.
Keep attendees engaged at your next event by booking onsite chair massage services.